Use natural linen like hemp for your tablecloths and napkins. Accent napkins with fresh herbs or (or a less-expensive greenery option, like the bouquets of mixed greenery available at grocery stores - usually for around $5 - or event leaves from your backyard. White blossoms also look gorgeous as napkin accents.And use china crockery rather than disposable plastic and paper.

Ask the florist to use only locally grown flowers ( yes, they have to ask their outlets) or order organically grown and fair trade flowers, this may cost a little more and it may also reduce the amount of flower variety available: so plan to simplify your designs and your expectations. If you have a green planner or florist in your community, seek them out to help you


Serve your guests only locally grown and organic food. That way, you are supporting both the local economy and reducing gas emissions that are spent in transporting food that is grown elsewhere.
Also consider holding both the ceremony and the reception at the same venue (or within walking distance) to avoid both the cost of transportation, as well as the wasted emissions.
Instead of using a traditional cake platter...why not use a beautiful old tree stump.
Green Field Paper Company
has handmade paper wedding invitations that have seeds embedded wedding invitation paper. The paper will grow wildflowers if kept moist! They also offer wedding invitations made from junk mail as well as tree-free wedding invitations including hemp.
Here's an example of their Fern Wedding Invitation with Monogram as seen in InStyle weddings Winter 2006 edition. It is made with seed embedded paper and is a very elegant wedding invitation.

They also have a unique all-in-one wedding invitation and reply card as shown here. This wedding invitation is also on seed embedded paper. It has a perforation for your guests to tear off the response card with your return address is already printed on the back.
These eco friendly wedding favor ideas are easy on the earth and your wallet. No need to buy junk that will end up in a landfill for your wedding - and this includes wedding favors!
After all, wedding favors are generally a little token of appreciation that represents you as a couple, so if you are a "green" couple, then your favors should be too!
Twig Colored Pencils - I absolutely love these as wedding favors and place card holders too! Not only are they eco friendly wedding favors, but they are functional too. Be sure to have some recycled paper at the tables that say, "Draw a picture or write a special note to the newlyweds" and have someone collect them at the end of the night. When you read these later on, you'll see how silly the messages get as the night goes on - and as the wine keeps pouring.
You can get these twig pencil sets for just a few bucks each from Wanda an eBay seller. To make it even cheaper I'd split them up so each guest gets just a few. If you don't see them listed, write her a note and see if she can get you some.
For easy tags, buy a paper punch in a shape you like (like my leaf) and punch through some recycled paper!
How about using a bike as your 'getaway car'? Not only is it eco friendly, it makes for some pretty awesome photos!
Here's a pretty cool green wedding favor idea. As your marriage grows over the years so will these trees in the yards of your friends and family. I think it would by pretty neat to be able to show your kids these trees when you go to see family. Not to mention you are doing something good for the environment too!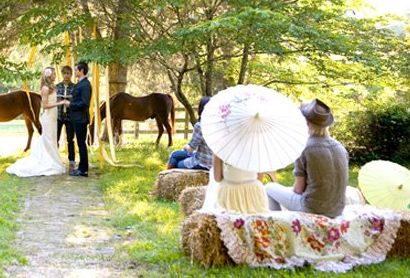 Did you ever think you could get away without providing seats? Well, the traditional kind anyway. Benches of hay covered in floral fabric give this wedding a down home, country feel. photography by Tec Petaja, found via Green Wedding Shoes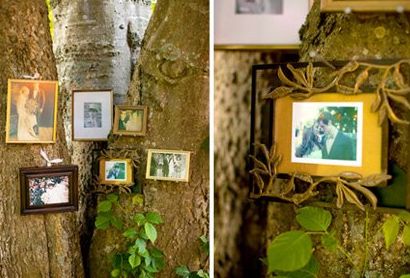 A tree trunk can make for a unique place to display photos. By providing an opportunity to share photos of other family member's weddings, it's a great way to include mom and dad.
photography by Tec Petaja, found via Green Wedding Shoes
Buy a recycled dress or have one made by a local seamstress with organic materials. Let the wedding party wear their own clothes or something they'll actually wear again.
What about a wedding with no electricity! While it's certainly eco-friendly, is it feasible? This means no microphones, speakers, lights. Here are a few ways to achieve this:


Skip the lights. Hold your wedding outside in daylight.
Hire an acoustic band. Keep the guest list small and intimate so they can hear the music without speakers.
Although you have no control over how guests actually get to your wedding, have your ceremony and reception in the same place so that guests can walk between the events.
The biggest obstacle is food. It might be tricky (and it might elicit a few choice words from your serious meat eating cousin), but...it can be done! To serve food at a true zero-electricity wedding, think BIG salad bar. Vegetables, salads, pasta salads, breads, fruits, cheeses, and cold cuts are just some of the goodies you could offer.
Another option? Use a gas grill, which emits a lot less CO2 than charcoal briquettes and lighter fluid. This will satisfy that meat eating cousin and you can even create some very interesting desserts with a grill - think bananas foster or grilled peaches. Speaking of which, for dessert you should take advantage of things that keep well and will transport easily, such as cookies, cupcakes, baklava, biscotti, and petits fours. You could also serve MRE's (meals ready to eat) or freeze dried space ice cream (which could be pretty fun!), but that might be weird.