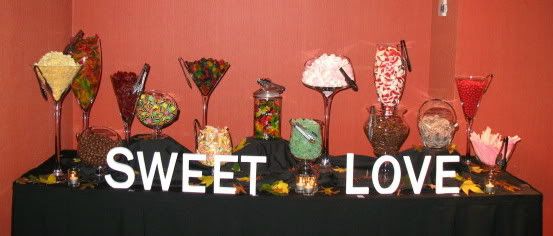 Lolly buffets are a great idea for an alternative to traditional wedding favors. The are fairly cheap to make as well. Because you dont have to have all the same size jars/vases/bowls, you can pick them up cheaply from op shops, $2 stores, sales or even use ones you or friends/family have laying around.
The lollies can also be done cheaply but buying in bulk from wholesale lollies stores. I still have a list of wholesalers, Australia wide, saved on my computer from when I was looking for my wedding, so if you need help locating one, just send me an email and I'll send you the details.
You can use scoops or mini tongs for serving and cellophane bags, noddle boxes or any other small container you wish for guests to fill will lollies.
To help create a full look to your buffet when you're on a tight budget, use other decorative "filler" items on the table around the candy jars. Paper lanterns, flowers, flower petals, and picture frames are great "filler" elements. You can even sneak in some jars of inexpensive, coordinating cookies to help fill space and create a decadent, abundant look to the buffet.
Use a variety of types of candies - individually wrapped, unwrapped with a hard candy shell (i.e. m&m's, skittles), hard candies, gummy candies, lollipops, old-fashioned candy sticks, etc.

Use different shapes, sizes, and heights of containers, and make sure their mouths are wide enough for guests to scoop candy from. Cylinder vases and apothecary jars are widely available in discount stores because their glass-ware for this type of project is often the perfect price!
Embellish containers with ribbon, custom labels, and other decorative embellishments.